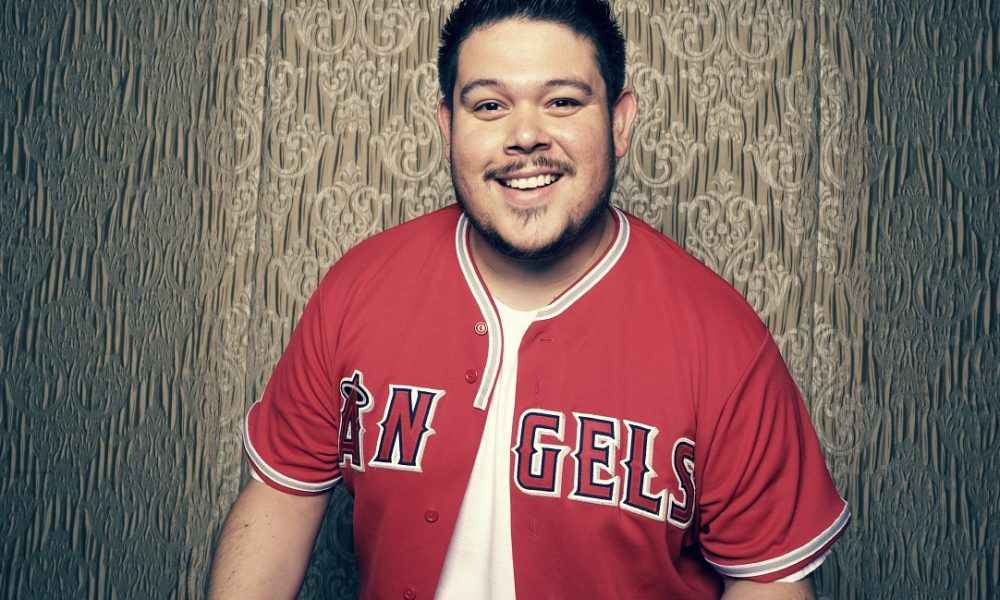 VoyageLA: So, before we jump into specific questions, why don't you give us some details about you and your story.
Cee Nario: I'm an Ecuadorian-Mexican-American singer-songwriter, performer and part-time comedian from the San Gabriel Valley (626)—born in West Covina, raised in La Puente and Baldwin Park. I gravitated toward music & entertaining as a kid, playing old hand-me-down Beatles, Disney, and Cepillín records while studying their written music and lyrics around 6 or 7 years old, playing along with a little color-coded keyboard. When I was 4, my parents gave me one of my favorite Christmas presents ever: a microphone/speaker set with light-up pedals the base for effects. I sung Feliz Navidad endlessly. My big sister used to record me singing old Spanish songs, and I would study her living room performances as she would sing SWV hits and make her own choreography while I played cameraman. I'd watch my brother mix and scratch on the turntables in the garage for hours and hours. I'd also sneak into his room to play his cherished guitars and borrow his De La Soul album. I wouldn't know it till later, but the music & dance thing was in the blood: my mom, a former ballet dancer, and my dad was in drumline as a young boy in Ecuador. I heard my uncle Oscar was the most musically inclined, a talented drummer and musician who I never got to see in his full greatness before he passed. 
My parents tried to get me to learn piano on our old stand-up organ in the living room, but I'd get bored and act out scenes from movies and practice kung-fu moves like Bruce Lee instead. Aside from schoolwork, I became engulfed in martial arts and sports—but I never really scratched the musical itch …sadly we didn't have a music program. In high school, the first class I signed up for was Band. I was naive and thought I'd actually learn to play a drum set and be a rockstar, but instead I learned to march like a crab, lugging around a bass drum with a harness digging into my shoulder-blades (LOL). At least we got to hang out and go on trips with the drill team to Hawaii…so it was all good.
From elementary school to this point, I was always singing—just undercover. I'd imitate actors, singers, comedians (who were imitating singers themselves), sounds—everything from beatboxing, to robotic sounds you'd hear in 80s music, and the beautiful talk box vocals made famous by Zapp & Roger. Junior year, I started hanging with elementary school friends again who'd created this pseudo-boy-band group, and I never knew if they were serious or just liked to dress "GQ" for the chicks. As I started to hang out with them more, it turned out to be both and… since it gave me an excuse to sing for real, I joined in. With our bandleader Rex on the keys giving us instruction, we learned the harmonies of the most popular pop and R&B songs of the late 90s and early 2000s, so we could sing them a cappella in public (usually when a bunch of girls were around… or at least in earshot). It was funny because, to contrast, one of my best friends, Jo Well, was a part of that group, yet the two of us and a whole other group of friends were all into the hip hop scene. There wasn't a dance circle or freestyle cipher we weren't rapping and beatboxing in at parties (or "clubs"), and it became an obsession so I'd practice for hours in my room—singing too. 
College (my first time) was a blur, but I had a hell of a time balancing engineering classes, working 2-3 jobs, and fraternity life. I'd still sing and freestyle at parties, but that was about it. By this point I figured anyone that was ever going to make it as a successful artist (aka Michael Jackson) has been groomed into the life at a young age & was classically trained, so I have no business even trying now… obviously that was dumb… but eventually I learned to loosen those unrealistic standards. After a few years apart, I started hanging out again with Jo Well, who'd helped form The Antidotes, a dope 'underground' hip hop crew with crossover appeal. I'd be at all their shows, like an honorary member—doing security, casting for music videos, being a roadie. I even thought, maybe I can manage these guys! I really wanted to create with them, but thought it'd be weird, so I'd settle for being a suit… until, eventually, I was in the studio with them all the time, helping write and record songs. After going through a few early names including K-Matix, I settled on Cee Nario (with the help of crew member & producer Mark Fader) which is derived from my mom calling me 'canario' (Spanish for canary) since I was little, and started making my own songs on Mark's beats.
The group was discovered on MySpace by a Japanese record label (GoonTrax), released two LPs (L.A. Lights and Beat the Classics), plus several compilation albums and side projects. Around this time, I started collaborating with artists outside the crew, doing hooks for the homie David May (fka Logic—before we all knew the famous guy that now uses that name) from the 909 and Hawdwerk aka Jamil from down the street in the 626. I started working with Jo Well on some ghostwriting gigs and even got to write for a platinum-selling Grammy Award winner via a major label. With some of the guys from The Antidotes, I formed a spinoff called the Jalapeno Brothers, which was a very fun and interesting experience. We were a very eclectic combination, fusing hip hop with Latin music and EDM before it was 'a thing'. We made a song about voting and made TV appearances on Telemundo & Mundo Fox along with a college tour. 
After the group disbanded, I felt it was time to explore my own sound and started work on my first 'solo' project with amazing friend and producer, Ivan Pacheco aka Instigate, and also collaborated with New Zealand-based producer SoulChef on the song for my first video, "Subway." I established my own publishing & record company, Guayacali Music, through which I released my 6-song EP "Stay Wavy," a collection of chill & upbeat jams with smooth vocals and some hard-hitting raps. I've shared the stage with notable hiphop acts like Rapsody, Blu & Exile, The Pharcyde, and Dom Kennedy, and have now returned to the studio to work on my full-length album, featuring more production from Instigate, Dennis Alvarez, myself, and more. I'll be releasing my next single "Superficial" early this summer and have a few more in the chamber for later this year. I'm definitely blessed to have experienced so much so far, but know that this is just the tip of the iceberg and have much more work and fun experiences ahead of me...
Source: "Meet Cee Nario of Guayacali Music in La Puente,"  VoyageLA.com (April 29, 2020)
URL: http://voyagela.com/interview/meet-cee-nario-cee-nario-guayacali-music-la-puente-san-gabriel-valley/